Field work practice in urban slums: Issues and challenges in a megapolis of India
Abstract
The practical learning through fieldwork is an integral part of social work education and practice. Learning by doing is the most acceptable methodology. Fieldwork practice facilitates the future of social work professionals through competent training facilities and developing appropriate skills and competencies. It provides an opportunity and exposure to working in various settings to the students.
Urban Slums and other informal settlements are areas where social work students are placed for practicing the theoretical inputs. These settlements depict a picture of poverty characterized by substandard housing, illegal and inadequate building structures, overcrowding and high density, unhealthy living conditions, and hazardous locations.
The present paper is qualitative and is based on the thematic content analysis of fieldwork case records of ten students who were placed in a community setting in different slums of Delhi. Through analysis, it has been noticed that students have tried to understand the community and its demographics. The community concerns have been underscored that range from lack of sanitation, education and health facilities, potable drinking water to poor quality of infrastructural facilities that indicated denial of basic services. This creates a complex web of urban poverty symbolizing deprivation and social exclusion for the residents. In these informal settlements of India, the challenges for the fieldwork practice have remained to understand the basic issues and address them through information, awareness generation, and sensitization rather than inducing structural changes.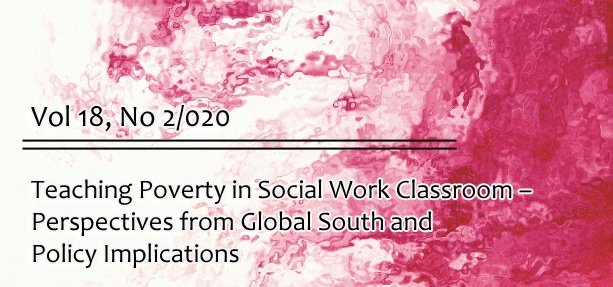 Section
Special Issue: "Teaching Poverty in Social Work Classroom"